Complex Networks is an American media company that targets millennials and Gen Z. Dating back to 2002, the company was started by Eckō Unltd brand founder Marc Ecko with the aim to promote men's fashion. Over time, the company widened its scope to encompass youth culture in general under the guidance of co-founder and CEO Rich Antoniello, whilst capitalising on digital marketing trends.
Complex utilises modern trends to promote brands digitally. To date, Complex has worked with household names such as Coors, AT&T, Ford, McDonald's, Nike, Adidas and Apple.
Additionally, Complex hosts its own shows including Sean Evans' First We Feast Hot Ones, in which celebrities are interviewed whilst eating chicken wings of increasing spice. Generating engaging content for younger audiences captures the younger generations' markets for Complex's clients.
The ComplexCon Project
Perhaps Complex's most interesting projects in 2020 is ComplexCon amid the global pandemic. By relentlessly driving people away from each other, the pandemic has remorselessly crippled the world's economy. However, in an effort to restore commerce and community, creatives are starting to unlock the true potential of digital media.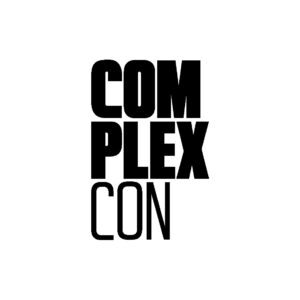 ComplexCon is revolutionising its traditional festival experience into the realms of digital. Usually celebrating the concept of community, ComplexCon is known for its conventions that bring people together through shared commonalities. Ranging from pop culture to music to art to food to sports to activism, ComplexCon exhibitions were seemingly boundless until Coronavirus presented itself in all its glory.
Coronavirus casualties are rising not only in terms of lives but also in terms of businesses. Naturally, one would presume that a company like ComplexCon, which is focused on bringing people together en mass, would be on the Covid-Grim Reaper's list.
Instead, ComplexCon is pushing the boundaries of digital capabilities and is shifting its entire business model to digital. From 7-11 December, ComplexCon will present ComplexLand: "an open-world, shoppable virtual destination".
Coveted brands such as AAPE, Adidas, Billionaire Boys Club, New York Nico, PROJECT WOO, ROKIT, TokiDoki and many more will be available for guests to virtually shop at during the festival.
ComplexLand Digital Festival Experience
ComplexLand differs from a regular digital shopping experience in that it emulates the 'festival experience'.
Guests create their own avatars to walk around the digital festival grounds virtually. Much like a traditional festival, guests are encouraged to visit stalls, panels, screenings, performance stages, stalls and even food and drink trucks, presented by brands and designers. Likewise, sellers create their own digital personas to move through the digital world in order to interact with customers.
Flyers and freebies are replaced in the form of apps and other digital promotions. Additionally, designers and brands are given the opportunity to release surprise drops in which attending guests can purchase exclusively. 
Adobe – the festival's live art sponsor – will also be showcasing its latest apps in ComplexLand's theatre. Other sponsors include Perrier, Head & Shoulders, Universal Pictures, The CW, eBay and HP; all of which will engage in interactive marketing strategies.
Versace Vice President Donatella Versace will even have her own virtual character that will inform visitors about how to find an exclusive e sneaker co-created by Complex and Versace.
Financially, ComplexLand is expected to be on par with ComplexCon's first ever convention back in 2016, which is in the "seven figure" ball park. 100,000 people are expected to attend the virtual festival over the five days.
"It's about creating movement and activity and gamification. This is about creating a much more active environment for the consumer. We're excited about how the brands are thinking about it."

Edgar Hernandez
Advantages of a Digital Festival
Data is an integral component of digital marketing and ComplexLand's virtual space provides more accurate and more exhaustive data sets than traditional festivals. Activity in ComplexLand is measurable and trackable, providing sellers with spending behaviour information directly.
"It's kind of exactly where brands want the consumers," said Rich Cummings, the co-founder and creative technologist at augmented reality agency Two Goats. "Old school traditional events were very costly and not particularly energy-efficient. But now, gone are those expensive physical productions and with these virtual platforms, everything's gone digital [and trackable]. It's kind of ideal."
Global reach; ComplexCon is usually held in Long Beach, California. Whilst the location is easily accessible for many of its convention's target audience, its reach is minuscule compared to ComplexLand's online access. Additionally, whilst ComplexCon's square footage is undoubtedly gargantuan, occupancy will always be restricted to the size of its real estate. Digital real estate is conversely cheaper to expand with limitless potential.
Festival inconveniences such as long queues for stalls and even toilets, as well as (in today's age) the lack of social distancing, will all be concerns of the past. Popular items, brands, performances will all be far more easily accessible in a digital space.
"ComplexLand challenges the passive participation of current digital experiences and presents a world built entirely by imagination, creativity, and passion. From our partnership with Jam3 to the brands and artists we'll be announcing soon—we're excited to collaborate with some of the best in the business to bring this one of a kind universe to people across the globe."

Neil Wright, Head of Collaborations and Experiential for Complex Networks
Of course, ComplexLand will not be able to replicate the full experience of attending a festival. The comradery of going with a group of friends, the 'day-out' experience and the general spectacle of an immense festival are difficult to emulate online. Not to mention the food and drink, which although are often over-priced, still provide an opportunity to try something new.
Nonetheless, ComplexLand certainly fills the void in today's on-going pandemic. Looking ahead, time will tell as to whether guests will gravitate more towards the digital festival experience rather than the familiar traditional one. Either way, ComplexLand offers an alternative festival experience, which could potentially be run complementarily with ComplexCon, rather than the two being mutually exclusive.
For marketers, ComplexLand is a fascinating prospect, which demonstrates the capabilities and untapped potential of the digital world. If ComplexLand proves to be a viable alternative, or at least a staple of its own, marketers will be able to garner information about their audiences on an unprecedented scale, which in turn provides unparalleled selling opportunities.
No longer will brands need to physically send sellers to festivals to farm out generic marketing material. Instead, brands will be able to target audiences directly at digital festivals based on accurate information gathered from previous festivals. If ComplexCon served as a highway billboard for marketers, ComplexLand serves as a social media advert.